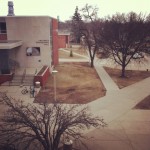 Over Spring Break, I made a visit to the National Music Museum, which is on the campus of the University of South Dakota in the small town of Vermillion, population approximately 10,000. Despite it being "Spring" Break, it was quite a cold day. I didn't have much trouble finding the museum. It appears to be in what was formerly a library building but it works well for this extensive collection.
When I first walked in, there was a reception desk, where I was given a very good overview of the building, including a map and a handheld computer that gave additional information about various instruments found in the galleries. There was a small gift shop across from the desk, and a small recital hall was also relatively close to the entrance.
The museum holds a huge number of instruments; according to their website, there are more than 14,500 of them. I took a look at everything displayed in their galleries that day. Of course, I took more notice of certain instruments than others based on my background and the type of work I'm doing at the moment.
Probably the most impressive sight in the museum is the gamelan, which is a set of instruments percussion from Indonesia. These are not commonly found in this area, so I am looking forward to bringing my World Music class here in the fall for a demonstration. The gamelan is housed in a gallery that includes many other non-Western instruments. The African talking drum, the middle-eastern ud, and the Indian sitar and veena were particularly interesting. The east Asian qin and flutes were also a treat to see. It's amazing, honestly, that all of these instruments, which aren't often found in Western music, are right here in this one collection.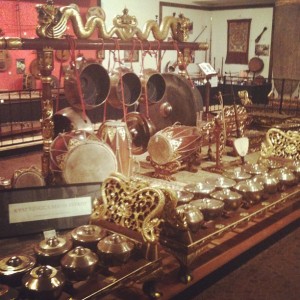 Another gallery includes "musical innovations of the industrial revolution." There is a flute that demonstrates the practice of having multiple middle joints, so that the player can most closely match the pitch in that particular area. There are other flutes included here, as well, including a few Louis Lots. There are also serpents on display in this area, and who doesn't like to see those?
Quite impressively, this museum's collection includes stringed instruments by Stradivari and Amati.
One of the last galleries I visited focused on American music and instrument manufacturing. Some of my favorites were guitars owned by Johnny Cash, June Carter Cash, and Joe Carter. Other instruments in this gallery included Native American drums, flutes, and rattles as well as Civil War instruments.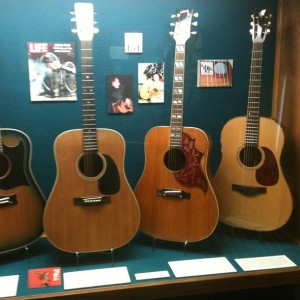 Overall, I once again find myself saying, "Wait, they have this in South Dakota?" For a big state with not many people, there are many impressive resources to avail oneself of here. This museum is going to be a benefit to my World Music class and is worth a trip if you happen to find yourself in the Vermillion, SD area. Check out more of their holdings through a virtual tour of their website.