2017 brought some very rewarding projects, some happy surprises, and a generous handful of disappointment. Continued from last year was the constant adjustment to tripling the number of children in my house (with now-toddler twins). For next year, my plans are on a larger scale and more geographically diverse.
In terms of teaching, highlights included working with some very talented flute students in my studio at South Dakota State University. I enjoyed giving a workshop with my woodwind colleagues for band directors at our middle school All-State. I was happy to give a "Women in Music" talk for SDSU's chapter of Tau Beta Sigma.
Finally, designing a colloquium for the SDSU Honors College was incredibly rewarding. We took an interdisciplinary look at music in the context of neurology, therapy, technology, politics, the arts, and global studies. We had some fantastic guest speakers, including Dr. Jay Batzner and Dr. Michael Hall. Fortunately, I will have the opportunity to facilitate this class again next year.
My annual Flute Day was in its third year, and we increased the attendance to over 80 young flutists from around the region. We were fortunate to have Dr. Christine Erlander Beard as our guest artist from University of Nebraska Omaha.
I continued my work on the New Music Advisory committee of the National Flute Association, which is one of my favorite service activities. I recently joined the Flute New Music Consortium and am looking forward to seeing the new compositions that come out of that group. I reviewed recordings for The Flute View and published a couple of articles: "A Summer Practice Plan" for The Flute View and "Janice Misurell-Mitchell: Commissioned Works" on behalf of the New Music Advisory committee for The Flutist Quarterly. I was also grateful to be able to contribute to Shaya Bendix Lyon's article about the use of technology in music education for Chamber Music Magazine, "Pixels and Pencils." In early December, former classmate and woodwind doubler (quintupler?) extraordinaire Bret Pimentel interviewed me.
Performing was good this year. (Check out my performance map here.) March marked the end of my maternity hiatus from travel, when I was guest artist (along with Dr. Catherine Ramirez) at the Montana Flute Festival in Billings.
I performed at three conferences: the soul-satisfying and energizing family reunion that is New Music Gathering, the annual bonanza at the National Flute Association, and the smaller but friendly conference of the National Association of College Wind and Percussion Instructors, where I performed with my clarinet colleague, Dr. Michael Walsh.
On the campus of SDSU, I collaborated with colleagues on their faculty recitals; my own recital was more involved than usual and introduced a new dimension to my performances. I incorporated dance, text, visual arts, and musical collaboration.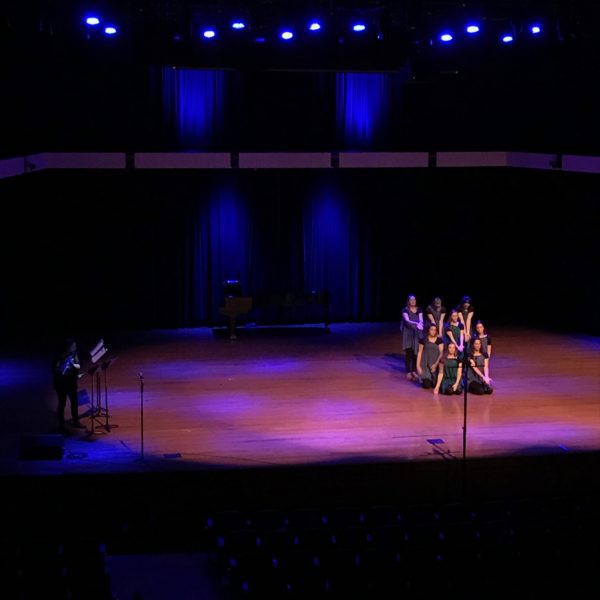 I also performed Kennan's Night Soliloquy with the SDSU Concert Band. My annual fall tour included the southeast this year and featured collaborations with friends and colleagues at Mars Hill University, Brevard College, Emory & Henry College, and East Tennessee State University. These fall performances included four world premieres (by Aaron Jay Myers, Daniel Walzer, Alan Theisen, and Wes Flinn) and one preview performance (by Clare Shore).
My last solo performance of the year was on R. Andrew Lee's Invisible Rail concert series, and can be heard on YouTube. I also appeared on South Dakota Public Broadcasting about my upcoming fellowship to Israel.
The beginning of 2018 brings editing the tracks for my upcoming debut CD, which features works for flute and Glissando Headjoint. I'll be ringing in the new year from Israel. Hopefully the contacts made from this fellowship will result in plenty of collaboration carrying into the new year.
On to 2018: new music, travel, and collaboration!
SaveSaveSaveSaveSaveSaveSaveSaveSaveSaveSaveSaveSaveSaveSaveSaveSaveSave
SaveSaveSaveSave
SaveSave
SaveSave