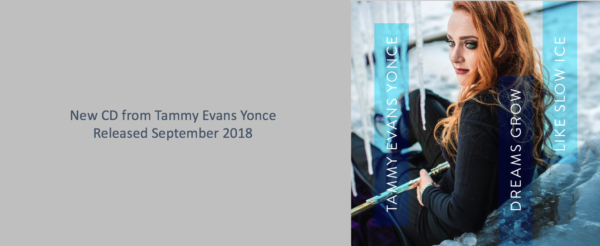 Available from:

RELEASED SEPTEMBER 2018
Follow @tammyevansyonce for updates!
REVIEWS:
"'Dreams Grow Like Slow Ice' is exactly the type of project that I dreamed of when inventing the Glissando Headjoint®.  My dreams were for many types of music to be created because of the possibilities the headjoint would bring — and those dreams are coming true.  Tammy Evans Yonce's expressive range, gorgeous sound and emotional honesty permeate this imaginative program."
– Robert Dick – flutist, composer, improviser, author, and inventor of the Glissando Headjoint®.
"… bewitchingly performed…" "intrinsically velvet sound…" "… sonic feast for the ears…" "Tammy Evans Yonce chose a rich palette on which to showcase her engaging and sonorous sounds."
– The Flute View, November 2018
"Best of 2018: Instrumental and Recital CDs"
– Sequenza 21, December 2018
"… just sit back, listen and enjoy."
– Pan, the Journal of the British Flute Society, March 2019
---
LINER NOTES for DREAMS GROW LIKE SLOW ICE
All tracks produced, engineered, mixed, and mastered by Andrew M. Rodriguez.
Recorded on May 28th and 29th, 2018 at the Performing Arts Center at South Dakota State University, Brookings, SD.
Photography by Kate Heiberger.
Hair and Makeup by Angelique Verver.
Design by BMOEN @ETCH IMAGE CO.
The Falling Cinders of Time
The Falling Cinders of Time for solo flute was premiered by Heidi Álvarez as part of a solo flute recital in Paris, France in May 2011, Costa rica in June 2011, at Western Kentucky University in August 2011, and at the Flute Society of Kentucky conference in 2012. This work has special significance in that it was written in remembrance of the composer's mother and quotes one of her favorite Rachmaninoff melodies. Poetry written by the composer sets the mood for the music: "Nights float on streams of silver. We watch the falling cinders of time, As the last glint of watchfulness fades."
Fire Walk
I am eternally grateful to Brent Miller for introducing me to the work of David Lynch and especially the television series Twin Peaks. While I was aware of the show when it was originally on the air I didn't watch it until Brent demanded I do so. I've been a fan ever since (although I do believe the second half of the second season is rather weak, you still have to watch it all because the last episode is so epic).
I have bonded with many musicians over mutual affection of Twin Peaks and Tammy Evans Yonce is a perfect example. I don't exactly remember how the idea of a Twin Peaks-inspired work for solo glissando flute got started but I do feel sorry for any future musicologists who have to sift through our tweets in order to determine the origin of this piece. Tammy and I each made a list of iconic/inspirational Twin Peaks moments and then I wrote a series of miniatures based on the list. Instead of separate movements, though, everything became intertwined and motives from Angelo Badalamenti's original score for the series could not be avoided.
There are so many pieces for flute which are rhapsodies or variations on opera themes that I consider Fire Walk part of that tradition. The sections of the work are played without pause.
Wrapped in Plastic
Fish in the Percolator
Waldo
Highways
The material for Highways was constructed from memories of driving across the country, and specifically of driving the highways at night. The sensation of being lulled to sleep by the hum of the highway as objects appeared to zoom past you outside of your window. The occasional lights you pass as you travel through the next city or town. These memories created an atmosphere from which he motives and musical ideas originated. The rapid barrage of notes combined with the smooth glissando available from the glissando headjoint imitate the blur or objects outside your window. The glissando headjoint blurs the sound world even more as it transitions into a dream-like middle section. The two sections combine at the end to provide a modulated version of the highway motives presented at the beginning. It is much like falling asleep in the car where you are only really half-asleep, in a sort of restful restlessness, and unaware of what is real and what is a dream.
Commendo Spiritum Meum
Commendo Spiritum Meum was composed for a Good Friday church service in the spring of 2011. The world premiere was on that service at St. Mark's United Methodist Church in Bloomington, Indiana. The title is translated from Latin as "I commend my spirit" and is, of course, the last three of Christ's final seven words on the cross ("In manus tuas Domine, commendo spiritum meum.") Premiered by Misty Theisen, the piece has subsequently been performed by other flutists including Tammy Evans Yonce (who is soon recording the work for a forthcoming album).
Angularities
Angularities, written for Dr. Tammy Evans Yonce, explores rhythmic, harmonic and melodic angularities for glissando headjoint flute. Harmonically, this piece uses octatonic, chromatic, minor pentatonic and minor pitch collections moving between pitch centricities with rapid, angular trajectories. Angular leaps in the melody are contrasted by smooth, scalar passages leading to a mournful middle section in D minor. Rhythmic angularities are bound together through syncopated rhythmic motives creating a sense of continuity and forward momentum. In short, this piece dances through pitch centers, slides through emotional twists and leaves the listener tapping their toes.
Dreams Grow Like Slow Ice
I have a file of potential titles and one summer this file grew quite a bit as I re-read William Gibson's classic Neuromancer. When Tammy Evans Yonce asked for a piece for glissando flute (flute with a glissando headjoint) and electronics I proposed the title "Dreams Grow Like Slow Ice," which I'm pretty sure I got from Neuromancer, and used that fragment's imagery to guide the basic form of the piece.
A simple lullaby becomes more abstracted and frozen as glassy drones emerge in the electronics. Eventually the lullaby returns and we end in a serene but slightly dark place. Strangely enough, this is the second piece revolving around dreams which I have composed for flute and electronics. I'm not sure why this is.
This work was given its premiere performance at the National Flute Association conference in 2013.
Behind the Day
Behind the Day was composed for my very talented friend, Tammy Evans Yonce. The opening thematic idea comes from a vocal improvisation I performed and recorded. The improvisation is based on my original poem, from which the title of this work is also drawn.
behind the day 
blue clouds of smoke drift
shades of dark and light lurk behind the scenes 
a layered scrim of what has been and what must be 
a textured depth of infinity