This week, I've had the opportunity to try out the new Powell Sonaré piccolo, PS-750. This new instrument has been available for about 6 months now. I had the pleasure of seeing it when it was introduced at the British Flute Society convention last summer but wasn't able to spend an extended period of time with it then. This instrument is quite a departure from the standard look of the piccolo. Their website describes the look of the instrument as "art deco." The mechanism is made from stainless steel, and the keys are rectangular instead of the more common round shape. This piccolo also comes in a choice of three colors of American hardwood. According to the Powell website, this wood is "tinted" and "stabilized with a phenolic resin."  Color options include American Amethyst, Indian Onyx, and Tuscan Umber. I tried the Indian Onyx variety, which looked very much like the color sample on the website. It's a bit streaky. The entire instrument is made by Powell in Massachusetts. It's pitched at A=442 and is built on the modern Powell scale with a hand cut headjoint. The introductory list price is given as $3125 on the Powell website, with an "introductory minimum advertised price" listed as $2240. Flute World and Flute Center of New York list their price as $2240.
Here's an interesting video on the Powell site by MMR Magazine. It features President of Powell Flutes, Steven Wasser, describing how the design of the piccolo was developed.
Luckily for them, my colleagues who have offices near mine were out of town for a conference this week, so I felt no guilt in really giving this instrument a nice workout. Based on my brief experience with it, this is a responsive, easy-to-play instrument that sounds even across the entire range. I introduced the piccolo to my students during studio class where they had the opportunity to try it for themselves. They initially thought the rectangular keys would be difficult to adjust to; as they spent some time with the instrument, they discovered that they really weren't an obstacle. I particularly like the low register of this instrument; it doesn't have that thin sound that you sometimes hear in the low register of the piccolo. The look is really quite distinctive. The colors are a bold move, and I personally prefer a more traditional wood color. However, the mechanism is striking and visually appealing. In some ways, it reminds me of the Powell 2100 model with its modern key cups.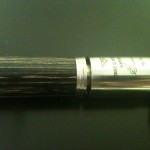 The only structural criticism that I have about this piccolo is one that my students also mentioned after they tried it. It is quite easy to inadvertently press down the trill keys, as they are flat and taper down, matching the curve of the fingers. This was especially true for my students with larger hands. Still, with my average sized hands, I found myself also running into those keys. This might be something that is quickly adjusted to but was still an issue after playing the instrument for a week.
Overall, I think this is a solid instrument. It's responsive and has a very nice sound. I also think the price positions it nicely to be a reasonable choice for many players. While I insist that my students try many brands to find the instrument that is best suited for each of them, the Powell Sonaré piccolo is one that I will add to the list of instruments that I recommend they consider.
Many thanks to the folks at Powell flutes for allowing the flute studio at South Dakota State University to spend some time with the PS-750!